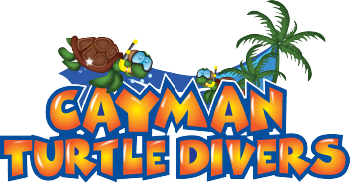 Grand Cayman Diving
at it's finest with Cayman Turtle Divers
Welcome to Cayman Turtle Divers!  We offer the best in Grand Cayman diving and, of course, the most fun trips you can imagine. Get ready for a personalized dive experience with a dedicated, knowledgeable crew.  With a maximum of six divers, you won't feel crowded.  Instead, you'll relish the wide open, endless expanse of the magnificent Cayman Island waters.
We're more than happy to provide a full valet service, from setting up your dive equipment, to washing and packing it for you. Our resident marine biologist, Alan, will fill you in on all the colorful sea life you'll see during your dives.
We offer a full range of scuba instruction, from Discover Scuba to Divemaster, as well as specialty snorkel trips, sunset cruises, Stingray City trips and private charters.
We strive to be the best Cayman dive company by providing superior personalized customer service, frequenting Grand Caymans best dive sites and offering the most competitive prices. We take a maximum of six (6) divers with a guide on every dive,
choosing from dozens of Grand Cayman's most pristine and fascinating sites.
Cayman Islands diving includes more than 200 marked dive sites that boast some of the best scuba diving conditions and marine life diversity in the world. You'll see dramatic walls adorned with corals and sponges, shallow reefs teeming with schooling fish and several wrecks, including the USS Kittiwake.
Grand Cayman diving is yours to enjoy, with 80˚F waters and visibility often exceeding 100 ft. The crystal clear waters of the Cayman Islands exude tropical splendor – and an unforgettable escape.