Kittiwake wreck diving in Grand Cayman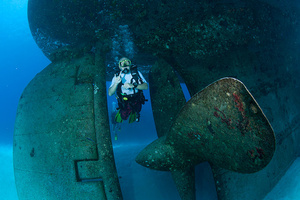 Wreck diving offers the opportunity to explore the modified wreckage of the USS Kittiwake, a salvage and rescue vessel that was operational for over 50 years.
After being donated by the Maritime Administration for the purpose of creating an artificial reef, the vessel was cleared of all hazardous materials, had holes cut from the hull, and all the doors removed in preparation for her descent January 5, 2011 in the waters of the northern portion of Seven Mile Beach.
Come for the wreckage, stay for the wildlife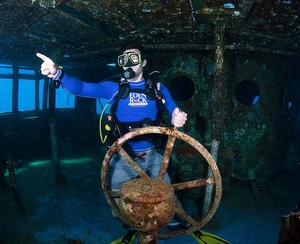 A Kittiwake wreck dive offers a legion of opportunities for reef and wreckage exploration. A good many of the vessel's original instruments were left intact, so you can roam through the different chambers and explore all of the different rooms and features as you go. It is also an excellent home for the Cayman sea creatures, who treat the old ship like an urban housing complex.
Book a Kittiwake Shipwreck Dive with Cayman Turtle Divers
The Kittiwake wreck offers excellent snorkel and dive opportunities regardless of skill level. We're thrilled to have received TripAdvisor's Certificate of Excellence Award for our stellar reviews, and we are anxious to show you why we've been so honored.
View our rate information and contact us today to schedule your trip.