Get Onboard with Cayman Turtle Divers!
At Cayman Turtle Divers, we offer the best diving experience in Grand Cayman and the most fun trips you can imagine. We can pick you up on land or sea!
In order to make your vacation even more enjoyable, we offer flexible pick-up options so you don't have to travel far in order to experience the best diving experience in the Cayman Islands.
Click on the map to see our pick-up locations (with boat or van), along with our favorite spots for shore diving and snorkeling. Are you ready to start the adventure? View our dive rates for your adventure and book today!
MAP LEGEND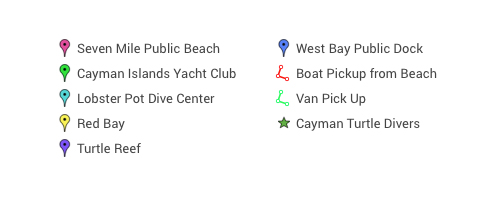 View Cayman Turtle Divers in a larger map